With the onslaught of the COVID-19 pandemic, people around the world (especially us Indians) have faced constant restrictions and frequent lockdowns. For the past one and a half years, our urge to explore and live to the fullest has been greatly hindered. However, as India (and Mumbai) gradually recovers from this crisis, with the lockdown expected to ease soon and the vaccination process in full swing, we can now see ourselves to be at liberty to think about our next travel destination, even if it is a quick weekend getaway. But the uncertainty and concerns of travelling are still justified, especially for Mumbai residents, as the city continues to battle the disease with full force.  Therefore, we compiled a list of the best quick getaways in India.
Goa
Surrounded by the vast Arabian Sea in the west and the mighty Western Ghats in the east, Goa is a reliable getaway destination that comes to everyone's mind, and is often viewed as India's great resort that offers unforgettable experiences. Relax at one of the many beaches of the state, embrace yourself in history and culture at Aguada Fort and the Basilica of Bom Jesus, or treat yourself to the breathtaking views of the majestic Dudhsagar Falls, Goa has activities and attractions for all. Immerse yourself in luxury and rent an authentic Goan bungalow to truly be one with your surroundings in Assagaon or be minutes away from the cool blue waves in Anjuna. When it comes to finding luxurious accommodations that would make you want to stay in this coastal jewel of the Indian peninsula, Goa does not fail to impress.
Fonteira – Villa F, Assagaon, Goa
Karjat
Located just 63 kilometres from the bustling metropolis of Mumbai lies Karjat, a pristine town in the Maharashtrian countryside. Karjat is what fairytales are made of. From its remarkable landscape to the tranquil tides of its lakes, it is the perfect vacation spot for people of all age groups and interests. Embark on a trekking adventure by visiting one of the many hill treks present in the area or pay reverence to the wisdom of the ancient residents in the Kondhane Buddhist Caves, embellished with intricate and meticulous wall carvings and artefacts as old as the first century BC. The very element of being in Karjat can only be complemented by choosing the perfect stay. Rent a farmhouse in Karjat to be one with nature in this little paradise not so far from home.
Nandi Farm, Karjat, Maharashtra
Alibaug
Alibaug is an easily accessible place that serves as the perfect haven for many from the hectic city life of the financial capital of India. A short boat ride away, the town offers a perfect contrast from the metropolitan area, full of lush forests and peaceful streets, making it the perfect place for a couple, a family or even a group of friends to call home for a few days. Anniversaries, birthdays, weddings, you name it. Alibaug serves as the perfect destination for every special destination. If you wish to enhance your stay, you can spend a few nights at a luxury villa with your preferred amenities like a private pool and other appliances, thus using your accommodation as a canvas to craft the holiday of your dreams. If you wish to venture out from the comfort of your abode, 1-2 kilometres off the coast of Alibaug lies Kulaba Fort, a historical military base, adorned with stories from different eras of the region's rich history.
Villa Magnolia, Alibaug, Maharashtra
Lonavala
Lonavala is the classic hill station loved by all those who seek a quick escape from daily life. It is a natural retreat located less than 90 kilometres from Mumbai, a bit further down from Karjat. Lonavala is versatile in nature, and provides much to do for those seeking thrills as well as those seeking solace. A short trip to the beautiful Kune Falls or a climb to Lion Point, offering stunning views of the surrounding valleys, are the best ways to free your mind of all the tensions of life and even provide great potential for some post-worthy clicks for Instagram. Where you stay in Lonavala, however, is integral to your enjoyment. Spend some nights at a cottage or villa to maximise the Lonavala experience.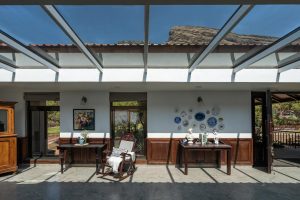 Villa Alborz, Lonavala, Maharashtra