The arrival of the rains in India is not just a sign of an awaited seasonal change but a time to celebrate. After the scorching heat waves we witnessed this year, the eagerness for monsoons had reached its peak. But after many delays, the rains have brought a respite with a downpour in some and drizzle in other regions. Monsoons in India, especially in Maharashtra carry a mesmerising vibe. Here, the Sahyadri ranges cover themselves in a blanket of lush green foliage as the clouds settle on its tips to create a picturesque setting – something we all can't wait to witness up close and personal. The rains beckon every person to the scenery outside. Some enjoy it from the windows of their humble abodes, while others start making plans for their monsoon getaways.

The quintessential need to pair hot Chai and bhaji (fritters) with the pitter-patter of the rains cannot be neglected. Inhaling the petrichor, sipping on the hot tea. A pleasant smile spreads across every face, and thoughts drift towards planning the monsoon trips. Be it a one-day ride to Lonavala's Maggi Point or unwinding with an elaborate weekend getaway at luxury villas in Karjat. Everyone begins to subtly search for the 'best monsoon getaways near me'. In this article, we make that search easier for you. With a list of villas near Mumbai for a monsoon weekend that let you embrace the rains even without you stepping out from the cosiness, they enwrap you in.
Villas For A Surreal Monsoon Getaway To Lonavala
Lonavala, one of the closest hill stations to Mumbai and Pune is on the tip of the tongue when looking for places to visit for a monsoon getaway. Lonavala houses numerous places to visit and a few of Lohono's best villas in Lonavala. Make it a preferred destination to escape quickly from the city chaos and clogged roads.
Perched at an elevation of 3,000 ft, this is one of the best villas to book during monsoon near Mumbai. Located at the base of Fort Visapur, you can witness the Western Ghats turn into an enchanting spectacle as if the rains spill out some magic every few hours. The petrichor becomes the fragrance in your rooms while you stare into the misty clouds and enjoy the beautiful views of the mountain valleys around you. If you are an ardent lover of adventure, you can easily hike to the Visapur fort. It's known to be one of the best monsoon treks near Mumbai.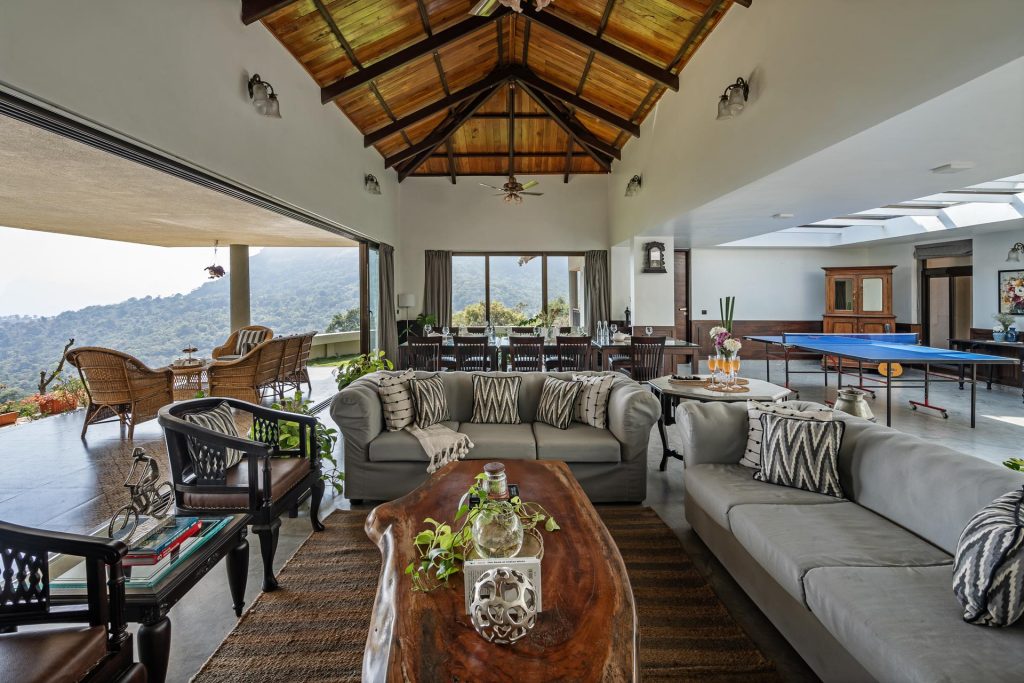 – Om Anantha, Lonavala
For a more luxurious feel and waking up to the lake, Om Anantha is a villa to book a villa near Mumbai. This holiday home with an infinity pool that seemingly blends into the Pawana Lake. It is bound to transport you to dreamland on your monsoon getaway here. You need to visit here to experience what unparalleled views and prompt hospitality feel like!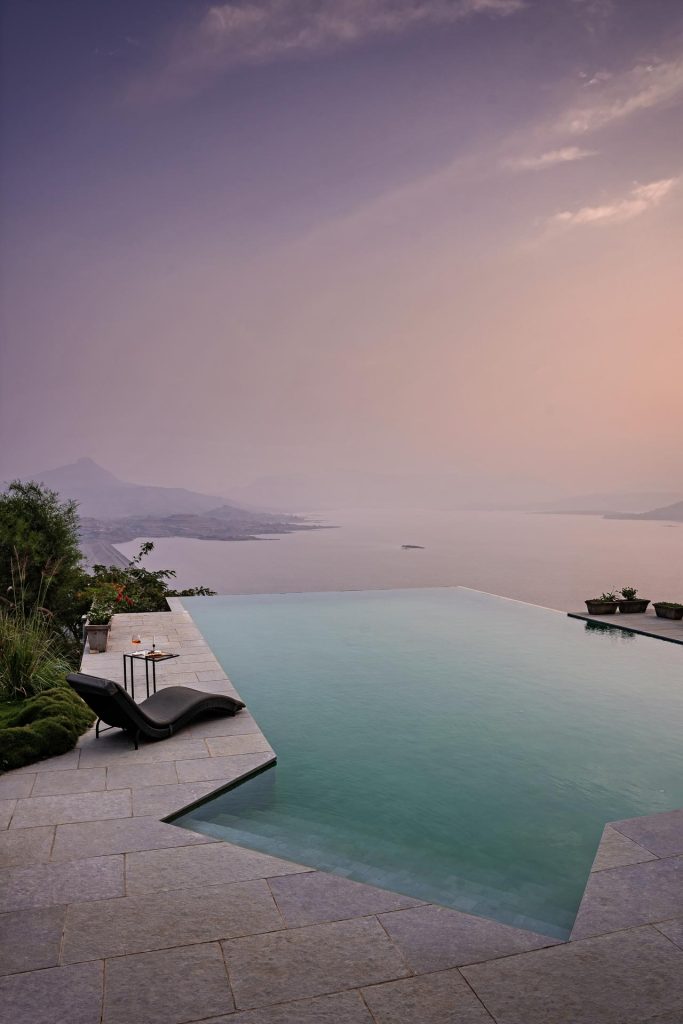 Beachside Monsoon Getaways in Alibaug
While many escape to the mountain valleys, you can find some respite away from the tourist hordes in Alibaug. Although easily accessible within an hour from Mumbai via the ferry, you may not find Alibaug on the list of places to visit in monsoons. However, if you stay within safe and secure holiday homes, you won't even need to visit the roaring seas to enjoy the rains.
– Waves, Alibaug
Waves, our 3-bedroom villa just a few metres from Akshi beach has stunning sea views and swaying palm trees. Live in tranquility and enjoy the view of the dense rain clouds from your private balconies.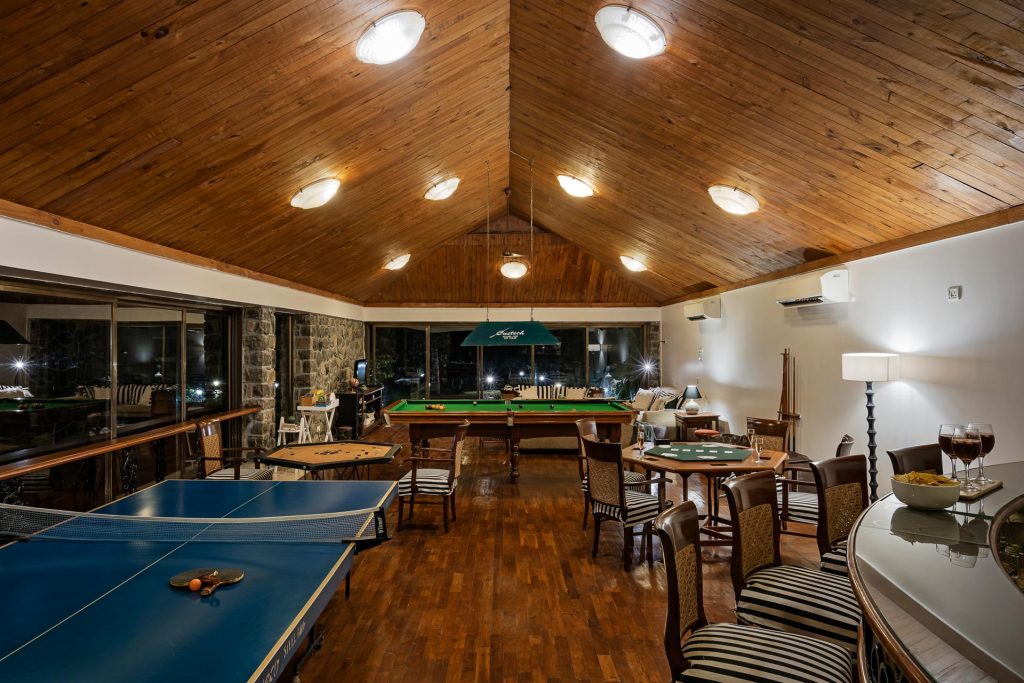 Embrace the Rustic Feels and Simple Living in Karjat
Gushing river, thundering clouds, rustling leaves and fresh breeze with soulful melodies of birds, enjoy nature's true paradise in Karjat, a must-visit monsoon destination in Maharashtra. And what better place to soak all its delights than a luxurious Lohono villa in Karjat with world-class amenities?
Enjoy the uninterrupted views from Maharaja House and its numerous seating spaces, each one ideal to enjoy the monsoon glory. It is an ideal villa near Mumbai for a monsoon weekend because it complements your stay with authentic farm-to-table dining.
Enjoy flavoursome meals with home-grown veggies. Be a part of the rustic lifestyle while enjoying the most modern comforts at this villa in Karjat.
– Villa Belmonte, Karjat
You can also opt for Villa Belmonte, a pool villa near Mumbai to relax amidst nature. 4 bedrooms, a badminton court, indoor games, a trampoline, hammocks in its lawn and a gazebo by the pool, you have so much to do here. All you need is to gather your loved ones and embark on a drive.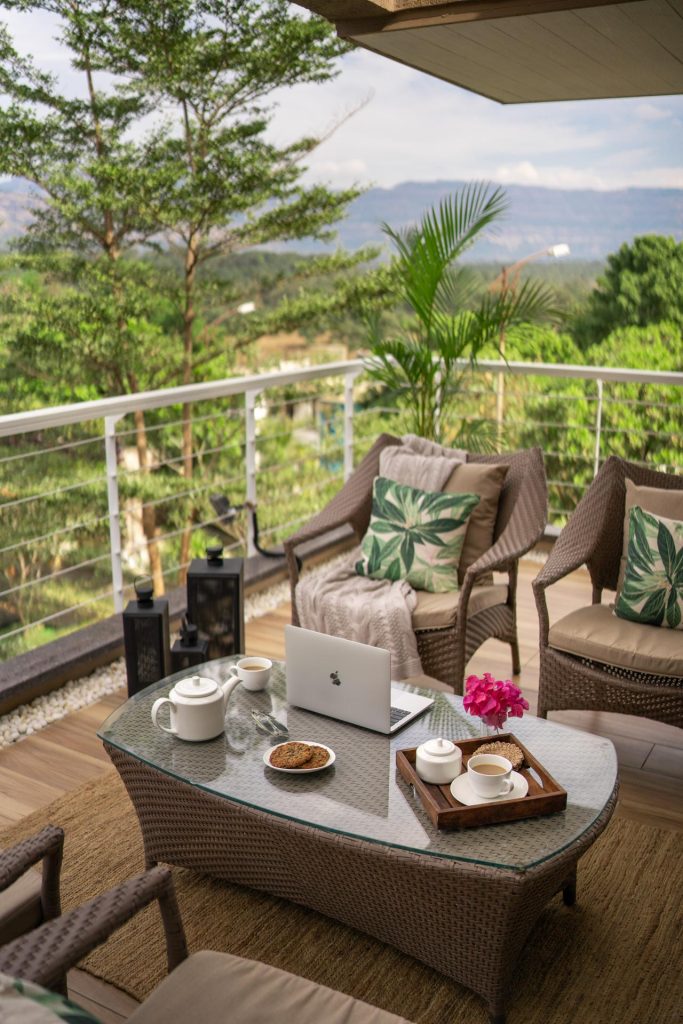 A Tranquil Escape in the Tea Gardens at Coonoor
One can never get enough of sipping hot piping tea in rainy weather. So how about living around the tea estates of Coonoor and enjoying fresh brews every day? Coonoor is a rather understated place to visit during monsoons in India.
– Casa Crystal, Coonoor
Enjoy a sensory treat at Casa Crystal. One of our best pet-friendly accommodations in Coonoor, this villa lets you immerse in the escalated beauty of South India during monsoon. With a rustic-chic vibe with earthy tones and minimalism, this home is for those who prefer simplicity over vibrancy. The gorgeous views while living amidst tea gardens in the monsoon. Casa Crystal is an experience, one you don't get to live in the everyday.
Go Offbeat Up North
Among the places to visit in monsoon in India, you can chase the towering hills up the Northern terrain. For someone who lives around the capital city, the mountain states of Uttarakhand and Himachal Pradesh are among the top places to visit near Delhi. While summers and winters are more opportune to explore these regions, if you love going offbeat, you can explore Shimla or parts of Uttarakhand a little towards the retreat of the monsoon season. If you are planning a honeymoon trip, the Bhimtal Lake in Uttarakhand is one of the lesser-known honeymoon destinations in India.
– Junglee Murgi, Bhimtal
Charm your partner with a romantic getaway in the monsoon by booking a cottage in Bhimtal. Junglee Murgi is hidden in a dense forest where you can enjoy seclusion by cosying up by the fireplace. You can also opt for a special date night set up outdoors around a bonfire with a slight pitter-patter of the rains. Our trained staff can do that for you while preparing a wholesome Kumaoni thali in Bhimtal. Relatively peaceful, you can wake up to the calls of the local birds. Visit the mesmerising Bhimtal Lake during the monsoons and we bet you will etch a lasting memory in your love story here.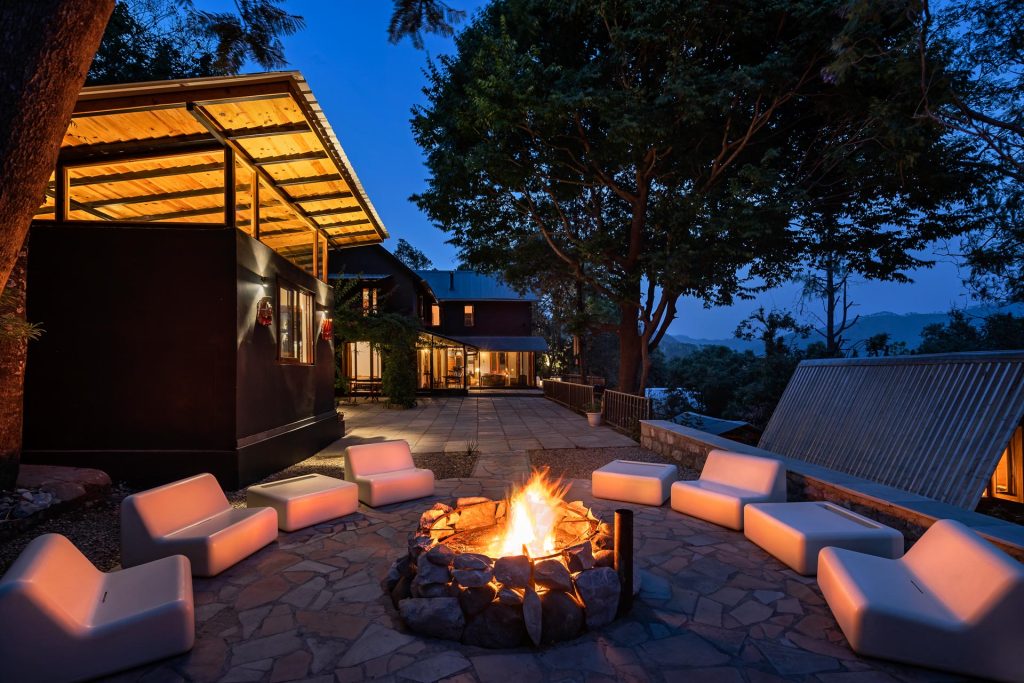 – Jagheri Bagh, Shimla
If you are a group of couples wanting to go on a monsoon getaway near Delhi, visit Jagheri Bagh, Shimla. Featuring four spacious bedrooms, this private villa in Shimla is maintained akin to a heritage home. Preserving the rich cultural past of the mountain town, this lovely abode has wooden interiors, traditional Himachali décor and a warm ambience to welcome you in the cool weather. Take walks on the dewy lawns or just marvel at the captivating views of the Himalayas. With settling rainclouds, you can paint the scenery and play a couple of games in the gardens, have fun and indulge in a luxury getaway at Shimla.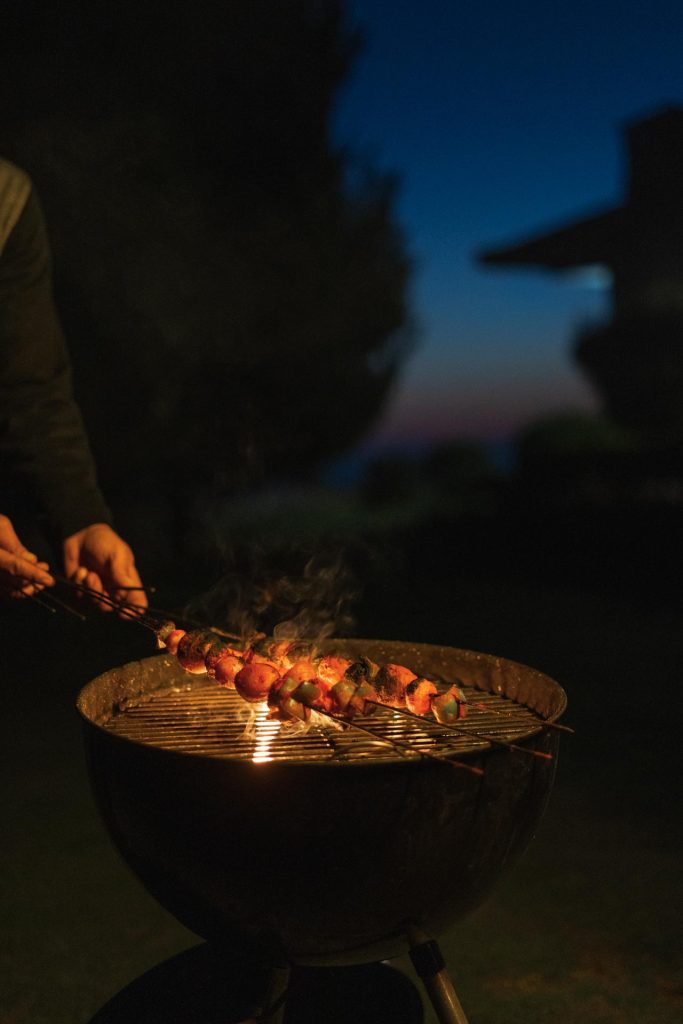 When travelling up North, be mindful of the changing weather conditions, and have a backup plan that may need you to stay put at a place for a couple of days longer. It is wise to thus book top-rated hillside villas that can tend to your needs with prompt hospitality. Something that Lohono Stays guarantees at all times.

The monsoon getaways are truly beckoning as the rainfall begins to transform the landscapes into bucolic scenes across the nation. Here, we have given you the best villas to book during monsoons. So, make the most of the weather and rejuvenate amidst nature. Float in the private pools while the light drizzle falls on your face. Catch breathtaking views from the comfort of your rooms. Relish lip-smacking meals prepared with love and unwind in ways you please while the weather just complements best.

Our trained team of professionals eagerly awaits your arrival to shower you with care and warmth. Time to make that WhatsApp group alive again with all the planning for places to visit this monsoon 2023.