I wish you a pleasant morning everyone reading this. A fresh start to the day with birdsongs, or would you like that to be the sound of the waves? It's a morning you longed for, for a long time. The weariness of your routine somehow feels absorbed by the soft sheets and you sense rejuvenation in your veins. As you walk to uncover the curtains, warm sunlight hits your face and you feel truly awake to seize the day. Do you prefer hot water first or 'not too sweetened' coffee is your potion? With a hot cup in your hand, you walk out on the lawn drizzled with dew and immerse in the blissful surroundings of your home! Your thoughts ponder… But wait! Who am I and where is this home?
Without many formalities and handshakes, I am Lohono. And I await to welcome you to this perfect morning that I get to experience, no matter where I am. How? Because for me, the idea of home cannot be restricted to the four walls with a roof above. For all the hard work and sweat that you put in every day, you deserve to relax at such a home away from home.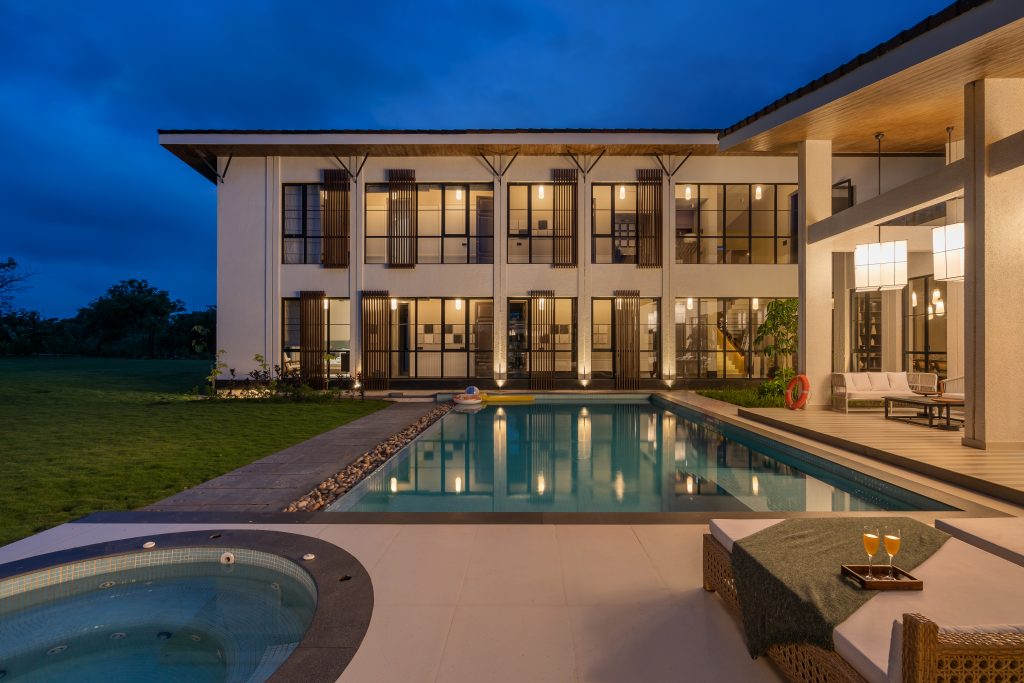 Travelling around the world and living across states has taught me that nothing really comforts like home. Attending business meetings and working from different locations, I sense a house is nothing more than what we make it. But it has to be something that makes you feel at ease. So, I decided to create and curate homes for you, where you can come by to relax, rejuvenate and experience the finer things in life. No, these are not mere whims but experiential stays that grow on you and seep into your memories of how much you enjoy being taken care of. It is very human after all.
I love hosting guests and I only aspire to get better at it. To give me a face, imagine me as a lady in her mid-30s, eyes full of hope to welcome as many families as she can. I will eagerly satiate your stomach with your favourite dishes. I can whip a woodfired pizza as good as I can make a local Poee. What's that you wonder? Well, that is a part of your exclusive food experience at my home. You ask for it and you shall have it delivered to your plate. Try me at fusion cuisine or make straight out-of-farm veggies, the authenticity of each will tantalize your tastebuds. A good food experience relishes the soul, and that is what I aim for every guest of mine. I am mindful of your preferences and love to know your likes and dislikes.
The exuberance of laughter, fun and play and just the sight of watching family and friends enjoying each other's company fills me with joy. I have seen and lived through the rat race of cities, where even a balance between work and family has to be scheduled. Kids are glued to TV or smartphones, not knowing what real playtime is supposed to mean. But when you are at my home, I see the transformation taking place almost naturally. To see kids running around, falling and getting up and often ending up falling asleep in the hammocks. The sheer joy of happy families makes me so delighted to do what I do best – host guests as an extension of my Lohono family.
Now if you are curious about what Lohono means? It is exactly what you read thus far. My name is coined from the Hawaiian word 'Lono' which roughly translates to relaxing within a cosy environment. Play on some soothing music as a calm breeze lull you away to sleep. Shun all your worries. There is no rush to head somewhere, this a home you can call your own. You can choose your scenery, the beach on some days, hills on others.
My globe-trotting experience teaches me what people like when they are travelling and that is what I emulate in my home. A private pool, emerald lawns, and ornate rooms with panoramic views… All that and so much more. Smart homes with automated systems or heritage properties evoking stories from their nooks and crannies, you might have a hard choice to make. Homes with dedicated workspaces and WiFi connectivity, so your work doesn't get a break, although you are on one.
Enough about me, let's talk about you!
What makes Lohono stand out is my priority – You. To offer you unparalleled hospitality, to craft you a holiday, a favourite you've had yet. No matter which location you choose, there is no compromise on the experiential value that comes we offer. Tide pooling in Goa, wellness retreats in Karjat, organic farm meals in Jaipur or a historic tour of Mahabaleshwar, a discerning traveller has so much to explore.
With me, Lohono – You express, you experience.
You don't have a car to reach the destination? We got you covered. Do you have a car but don't know where to traverse? We got you covered. Do you have a family where everyone has different preferences? We have something for you.
As a host, when I say you are well taken care of, I account for minuscule details. To account for an aesthetic appeal a lot of you look for – my homes tap on it. For some it's the rustic charm, for others, it's the modern elegance. For some it is getting lost in the scenery, for others, it is the ability to still be connected while living remotely.
Establishing a good rapport with the host gives a welcoming start to a vacation, doesn't it? For me, it's people and conversations, building relationships, networking and providing everyone a place they can experience. Milestone achievements or a happy bride-to-be, I love being a distant spectator of celebrations. Finding their spots for polaroid pictures, decking the area in the vibrancy of emotions, kids rolling on the lawns, the smiles on the faces of grandparents and the overall camaraderie, keep me thriving to uncover all these luxuries for you.
If you aspire for luxury, privacy and impeccable service, think of me. You know who I am! Come, Lohono with me!