Goa proudly holds the tag of being 'The beach capital of India' making it almost a quintessential part of people's summer vacations. While a trip to Goa also holds the reputation of fizzling out more often, almost everyone has Goa on their list, be it with friends, family or going solo. With the growing popularity of exploring hidden gems and unique experiences, there are so many things to do in Goa that one visit is never enough. While its sunny glow and tourist-friendly beaches are widely popular, the state turns even prettier during the monsoons. The winding roads that lead you through the lush ghats or be it a drive within the state from North to South. Goa is full of experiences for a discerning traveller. And if you are planning to visit Goa in monsoon season, this article will help you plan a fulfilling trip. Along with our recommendations of the best stays and villas in Goa, we bring you a list of things to do in Goa during monsoons, to experience the beach capital a tad bit differently.
Things to do in Goa During Monsoons –
1. Trek to the Dudhsagar Waterfalls
One may have explored several waterfalls in monsoons, but the magnanimity of the four-tiered Dudhsagar waterfalls is spellbinding. Soon after the onset of monsoons, Dudhsagar Falls, the 5th tallest waterfall in India, turns into an enchanting sight of pure white water that looks like milk. Located inside the Bhagwan Mahavir Wild Sanctuary in South Goa, it is one of the best places to visit during monsoon in India. A little hike through the dense forests will lead you to these beautiful cascading waters. If you are headed to Goa in July, it is the perfect time to explore the pristine change of scenery. For those who love a mix of leisure and adventure, you can start your trip with Dudhsagar Falls. And then retreat into luxury villas in Goa for the rest of your days.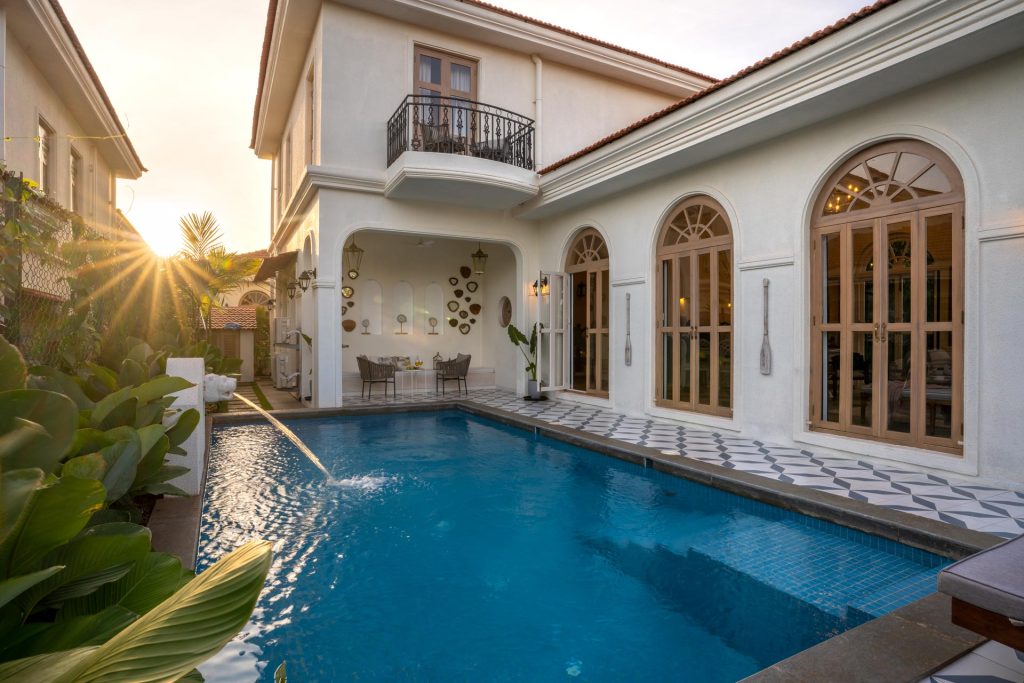 If you want to stay around the favoured beaches of Anjuna and Vagator, you should check out Aurelia Villa by Lohono Stays. Located in the heart of Goa, this 3-bedroom pool villa in North Goa is perfect to celebrate with sundowners after an adventurous day.
2. Visit Chapora Fort
If you are visiting Goa in monsoons with friends, your playlist more often than not will tune into the hit tracks from Dil Chahta Hai. The medley of music just complements the rainy weather and cool breeze here. While you drive down the nostalgia of your good old days and make new memories, don't forget to recreate the scenes from Chapora Fort. As cliche as it may seem, sometimes it is doing these silly things that you will bring a smile to your face later on.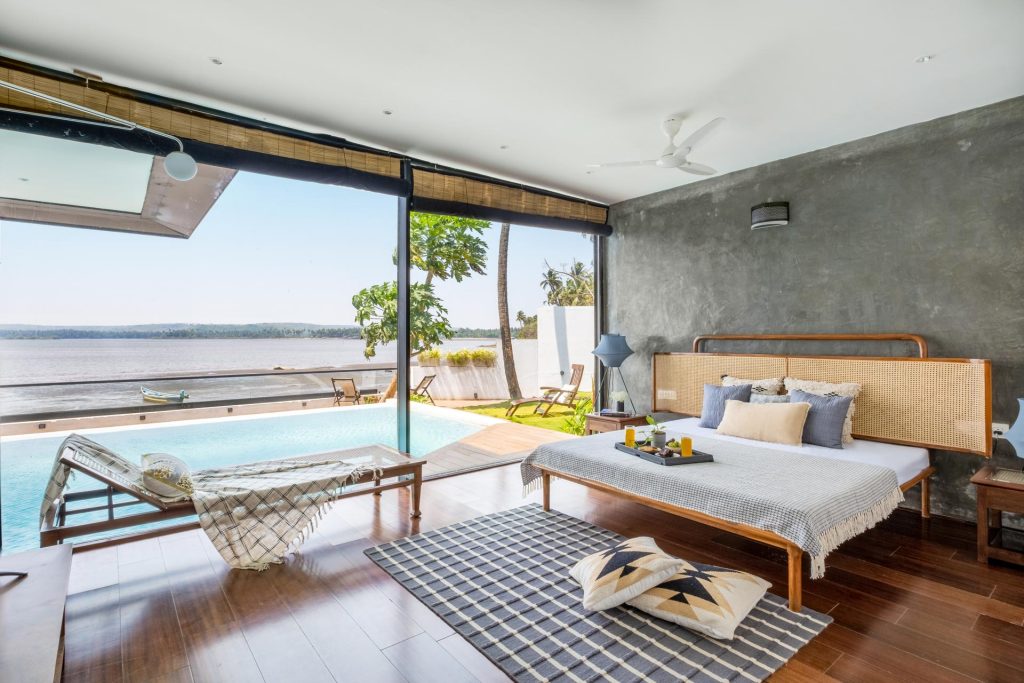 If you are a small group of 3-5 friends, then you can check out Glasshouse On The Bay, a one-of-a-kind villa in North Goa that's situated right on the edge of the water and offers vast views of the seascape.
3. Tropical Goa Spice Plantation
Did you know Goa has long stretches of spice plantations which host tourists for guided tours and fresh farm-to-table meals? Explore this lesser-known side of Goa that gives an authentic peak into a rich culinary delight and aromatic spice farms. Located close to Ponda, there are about 4-5 spice plantations that provide a rejuvenating experience. Verdant green stretches, fruit-bearing trees, tiny rivulets, and dripping raindrops while learning about the ingredients that add flavour to our meals, the tropical spice plantations of Goa are an enriching place to visit in monsoon in India.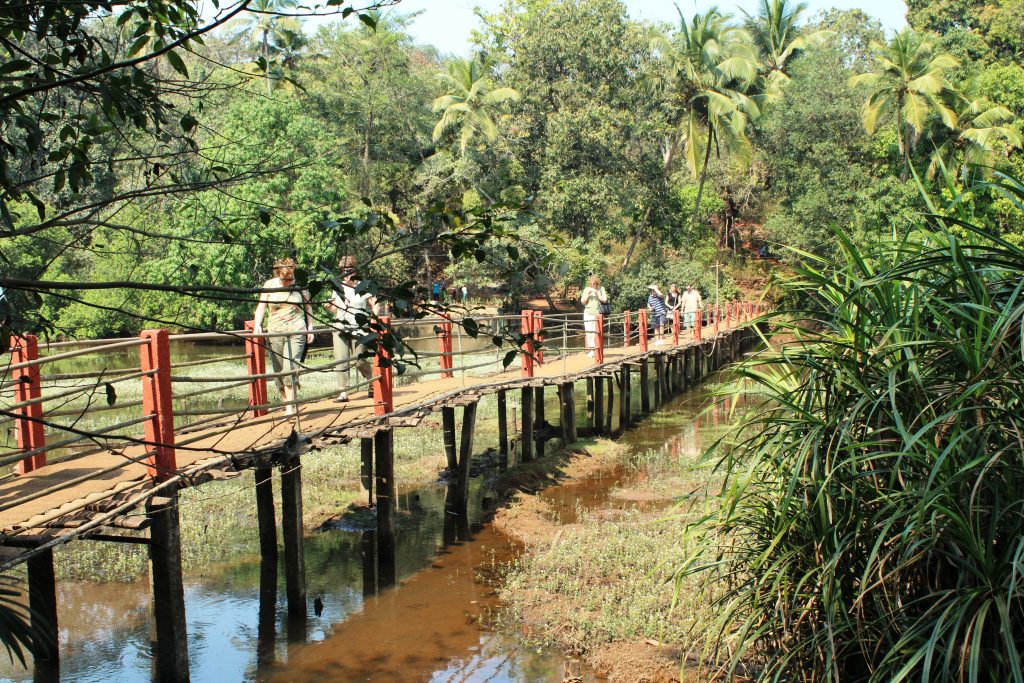 4. Immerse in Art and History in Museums
Make your visit to Goa in monsoon a very enriching and offbeat vacation by doing things that you rarely see anyone else doing. If you really want to explore the true history and culture of Goa, you should visit the numerous museums here and get acquainted with the rich past. Instead of spending your lazy afternoons indoors, you could visit the specialty museums like the BigFoot Museum, Houses of Goa Museum, Naval Aviation Museum, or the Museum of Goa, all presenting a curated collection of art, history and culture.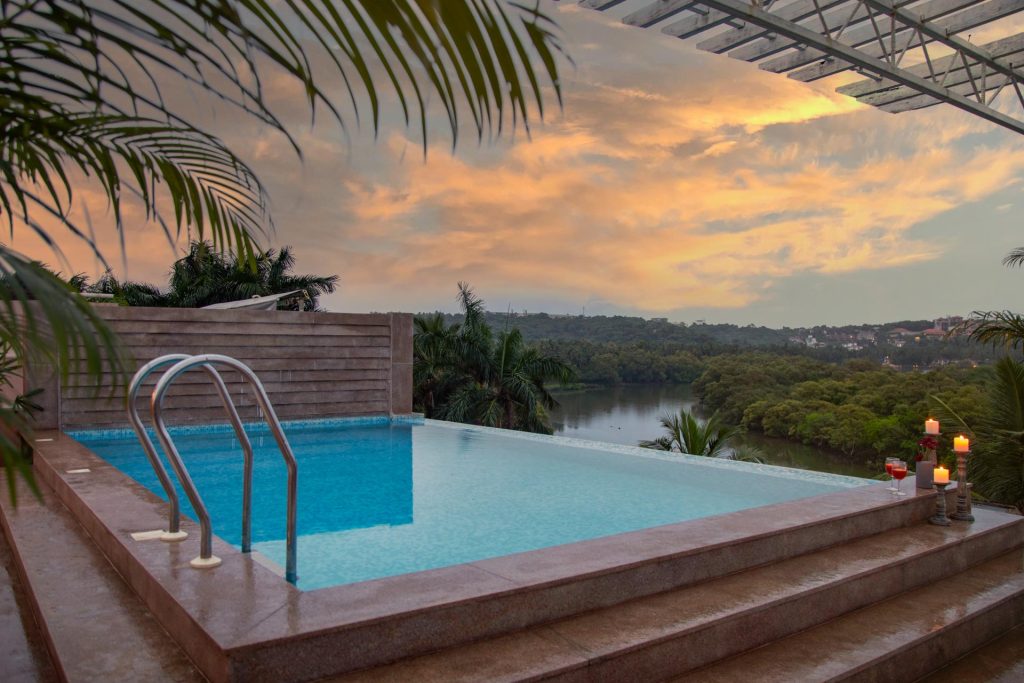 You can consider Villa Supan, a 7-bedroom villa in North Goa if you want to indulge in the laid-back atmosphere along a riverside. This luxury villa in Goa is right by the winding Nerul river and boasts remarkable amenities including a private jetty! The Museum of Goa is just 2 km away from this home.
5. Kayaking in Chapora River
Goa during monsoons still retains the water activities in its calm and soothing rivers. Head out on a kayaking and canoeing escapade and learn a thing or two about the activity. You will be taught a little basics about balancing your kayaking and rowing before you paddle into the tranquil environs of Goa's quaint backwaters.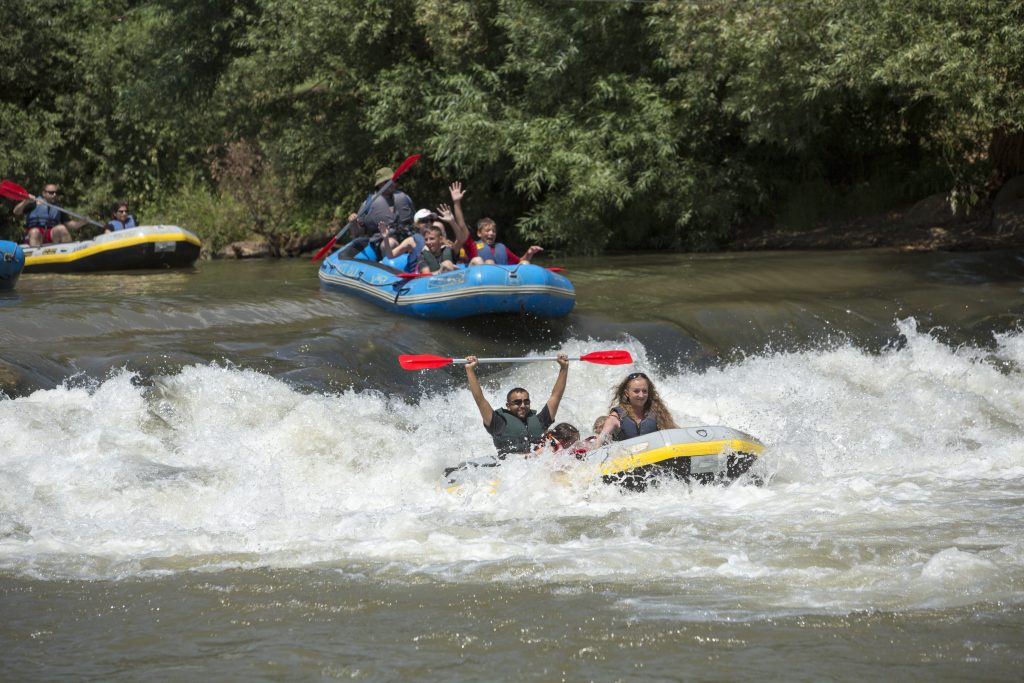 6. Rafting in Mhadei River
If you are a thrill seeker, then Goa does have its bit of adventure to offer during this season. If you are visiting Goa in August, you can head to the Mhadei river for river rafting. Adventure junkies can refill their thrill quotient in the grade 2 to grade 4 rapids on the 6 km stretch of Valpoi to Mhadei (Mandovi) River. As the river body gathers force post the rains, it is one of the lesser popular but totally worth it activities to do in Goa in monsoons. But make sure you book your rafting tour with experienced rafters.
7. Take long walks along the quiet beaches
Known for its vast stretch of beaches bustling with tourist hordes, Goa in monsoons transforms into a less chaotic landscape, where you can truly enjoy the bliss of nature along its beaches. Although swimming in the ocean is prohibited, you can always head to the seaside. Experience the endless expanse of waters, waves crashing one after another. Be a silent spectator admiring the equally soothing silence. Anjuna, Vagator, Ashwem or Mandrem these less crowded seascapes will be a treat to visit in the rain.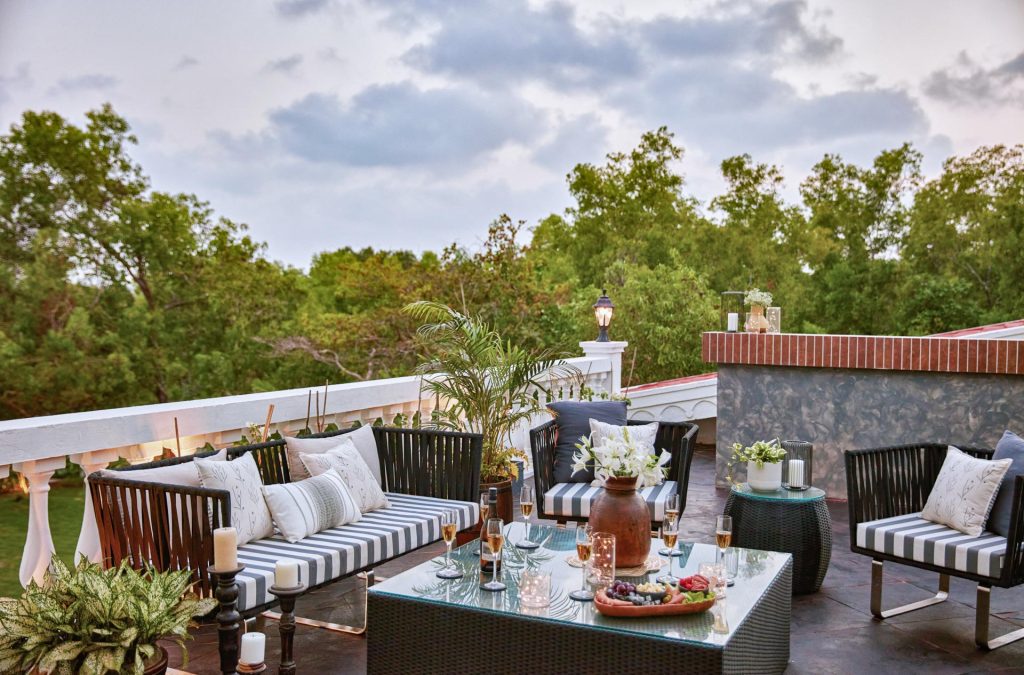 If you want beachside stays in Goa, Lohono has multiple villas in North Goa which can be your abode on this vacation. You can check out Villa Branco, which is conveniently placed between the villages of Anjuna and Assagao. This 5-bedroom pool villa in Goa has distinctly crafted interiors, a treat for those who hunt aesthetics.
8. Be a part of Bonderam Festival on Divar Island
Unscathed by commercial tourist crowds, Divar Island is one of the best-kept secrets of Goa. If you are paying a visit to Goa in August you can explore a slice of Goan culture at the Bonderam festival, which will be held on August 27 this year on the Divar Island. The celebrations take the form of a carnival with vibrant floats presented by villagers. The floats strutting in style and local music set the overall celebratory vibe that you should experience at least once.
Since Divar is only accessible by ferry and there are limited ferries, it is advisable to stay near Panjim area. If you are looking for villas to book in Goa, you can check out Courtyard Villa in Moira, about 30 mins from Panjim. Perfect for small groups, this 3-bedroom home has a shared pool in its centre. If you plan to visit Divar, this home is perfect to reach in time for your ferry.
9. Explore the less chaotic nightlife
Goa's nightlife is one major factor that acts as a magnet for tourism. But being in Goa during monsoon presents a less chaotic and more enjoyable nightlife. The bars and clubs are less crowded and allow you to soak in the transformed ambience without sweating it out. Order your favourite cocktails, groove to the beats or just sit outside and listen to the sound of the waves.
To explore the best bars, restaurants and nightlife of Goa, it is better to book villas in North Goa. If you are a large group of more than 10 people, you can consider Villa Azul in Vagator. Host your own rainy party by the private pool while our team takes care of the lip-smacking starters.
10. Drive through Chorla Ghats
If you still feel you haven't experienced enough of nature, you should embark on a scenic drive into Chorla Ghat on your visit to Goa in July or August. Drive away from the beaches, about 50 kms from Panjim and this winding road passes through the Mhadei Wildlife Sanctuary. Adorned with waterfalls on the verdant Sahyadri mountains, there are several picturesque spots to stop by here. Enjoy the panoramic canvas showcasing the monsoon beauty. Even a day trip into Ghats can rejuvenate you to head back home to your chaotic cities.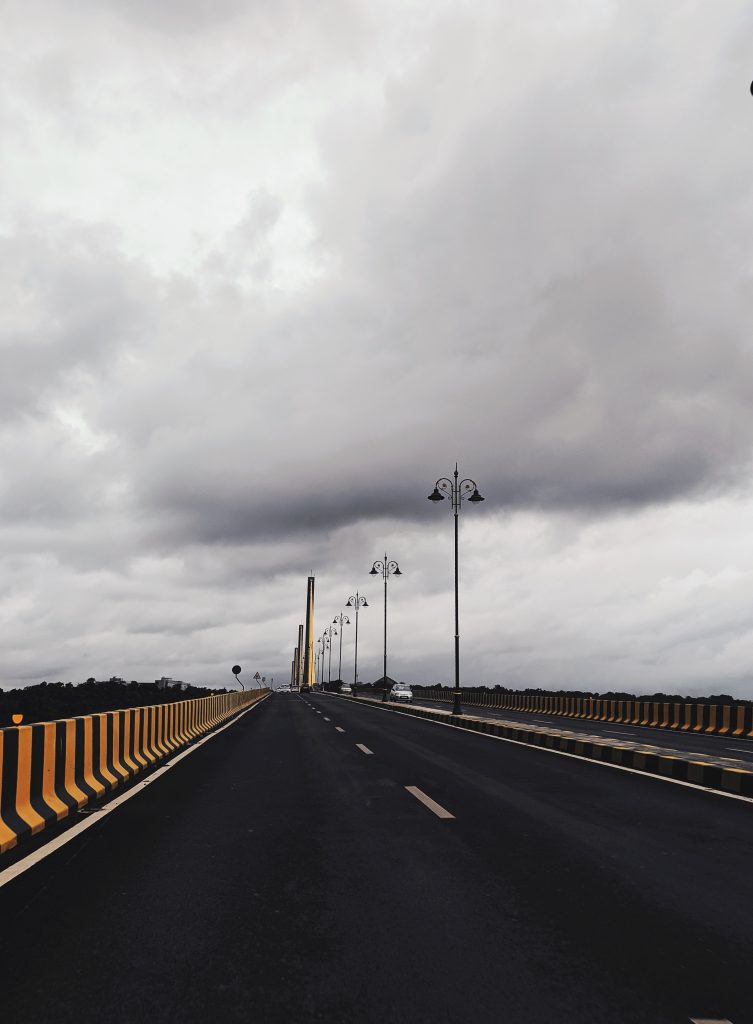 Goa in monsoon months has a different vibe altogether. The bountiful nature takes over to transform the landscapes into serene pastures. Whether you drive through winding roads or just laze around in our luxury holiday homes, you can bask in the monsoon glory. Travelling with your family and friends, or taking quick romantic escape with your partner, ensure to make this Goa vacation, one that is starkly different from what you've probably done or seen before. If you are unsure about what activities to do in Goa during monsoons, don't worry our concierge team can also make special arrangements.
At Lohono, we lay great emphasis on guest experiences. So, when you book your villas in Goa with us, we promise to craft a memorable stay. We hope to see you soon.