The sheer utterance of a wedding ceremony brings in such a rush of emotions. The red lehengas, oh wait, it's time for pastels now, isn't it? The face of Indian weddings has drastically changed—going through a phase of small and intimate ceremonies a couple of years ago, things are back to grandeur. Over time, the customary wedding banquet halls have seen a pleasant transformation into luxury private villas at captivating destinations. With lush lawns, poolside events, commodious outdoors and countryside vistas, the trend of destination weddings has brought dreamy sequences to life. Contrary to choosing hotels for wedding functions, having access to a private villa adds a notch of opulence to one's D-day. If you have an upcoming wedding in the family, you've reached just the right place to find some of the best luxury villas for weddings in India.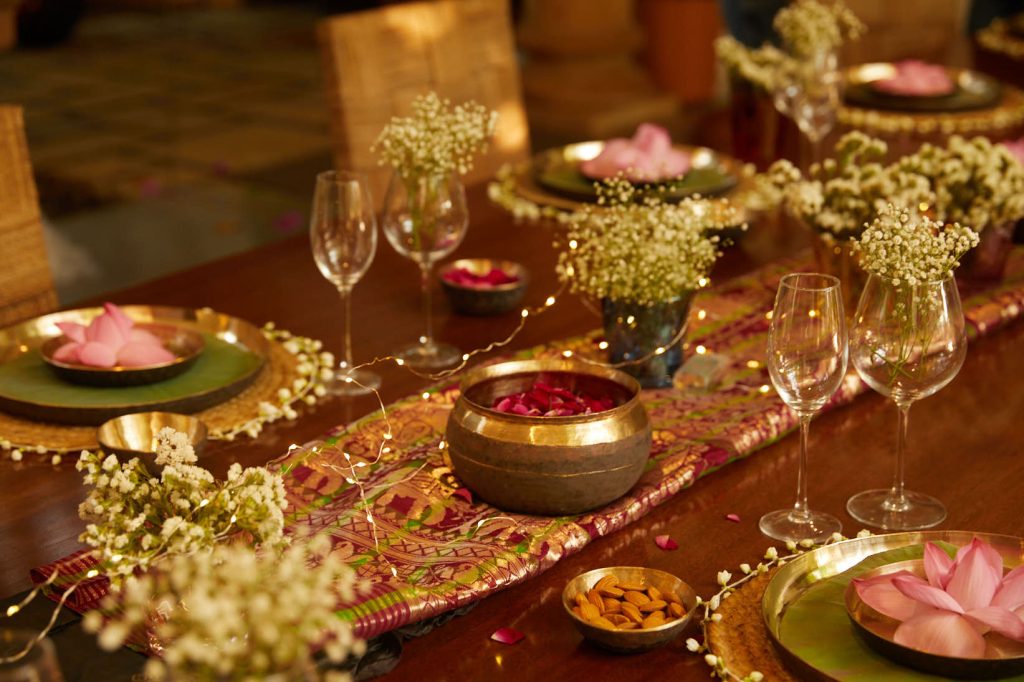 Planning a destination wedding has endless possibilities, it could be by the sea, over the mountaintop, amidst a forest or within a heritage palace. Choosing a venue is thus one of the most tough decisions to make, especially when you're spoilt for choice among the best villas for weddings in the country. Your guest list, decoration theme, kind of ceremony, number of festivities everything depends on the venue you choose. For those who want their functions to be exclusive, well-guarded and just surrounded by a handful of close ones, choosing villas for weddings in India remains a wise choice. Couples who value privacy and wish to exchange vows in tranquillity and seclusion can choose from our exquisite collection of luxury homes in India.
1. Host a Royal Wedding at Srinivas, Jaipur
Have the recent celebrity weddings made it to your inspiration for things to do at your wedding? If making a stunning entry around ancient arches, donning a royal ensemble and a palatial backdrop is on that list, you can check out Srinivas- The Royal Residence Jaipur. This heritage villa in Jaipur for weddings has arched courtyards, pink sandstone walls, dome Ghumtis, and Jodhpur stonework, all elements adding a regal aesthetic to your venue.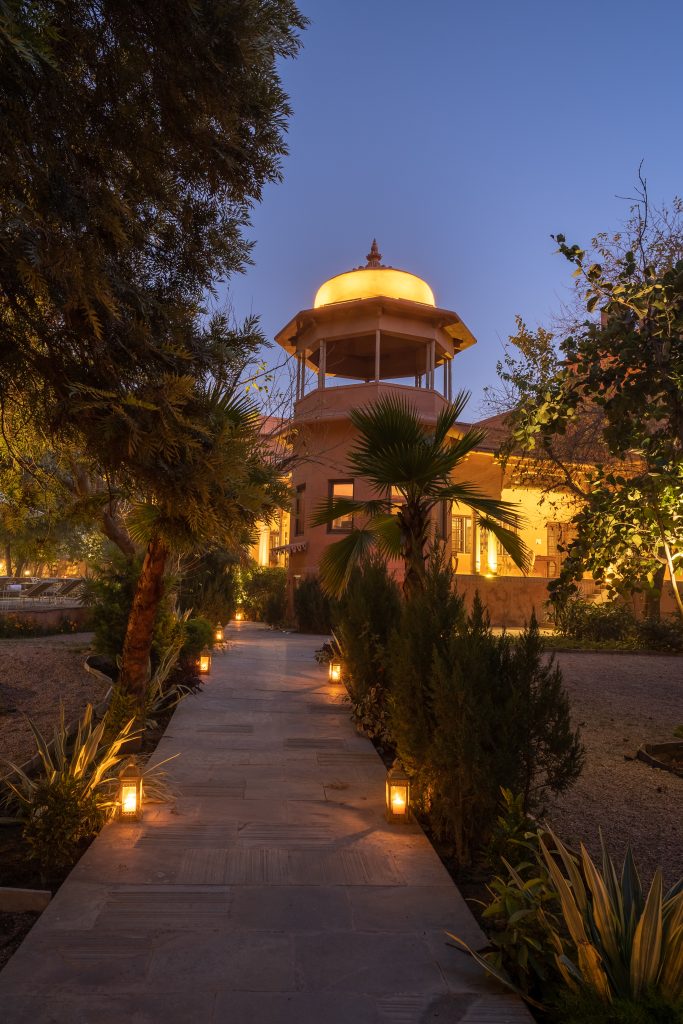 This erstwhile private residence belongs to a royal family from Jodhpur and retains the rich cultural legacy of the place. At the same time, it offers you the exclusivity to host your wedding ceremony surrounded by your close-knit family and friends. We can arrange for special local performances to keep your guests entertained and immersed in the vibe of this town.
2. Ring Wedding Bells by The Beach at Beira Mer, Alibaug
Walk hand-in-hand on the sandy shores and feel the waves of romance with a seaside wedding at a private beachside villa in Alibaug. This is especially for people who are looking for luxurious wedding venues around Mumbai and Pune and don't want to travel too far with all the wedding preparations. Spread across 1 acre, this lovely pool villa in Alibaug is located on the Kihim beach providing an amazing sea view, a manicured lawn with a gazebo, and a private pool.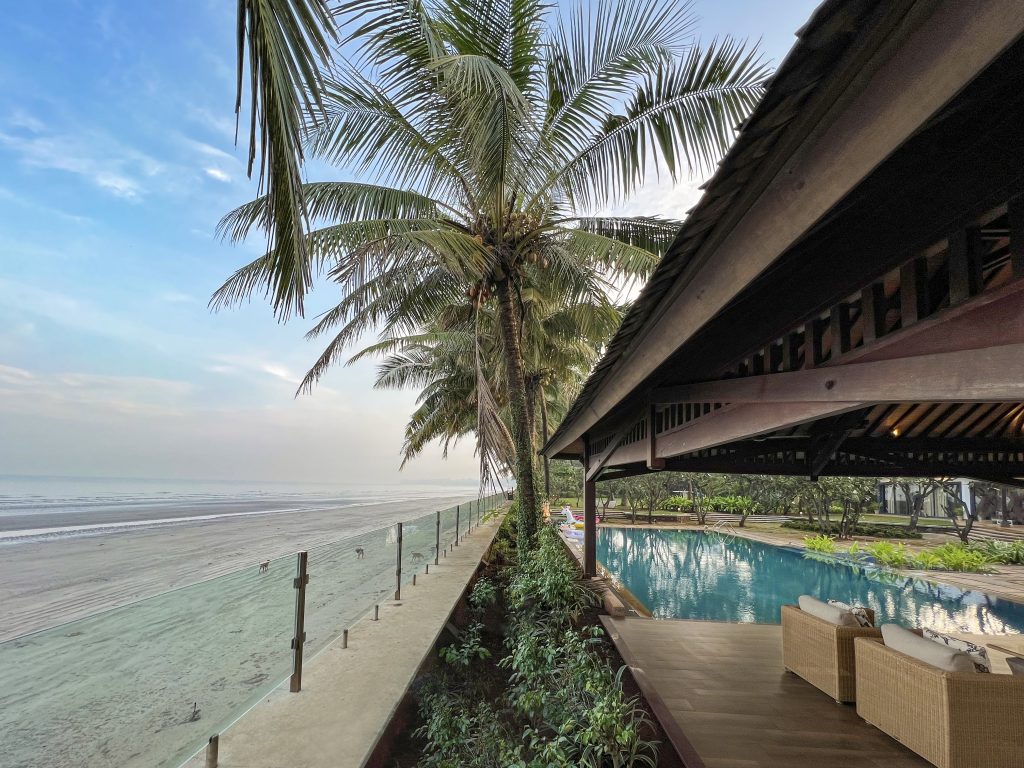 If not for your main wedding ceremony, you can even utilise this space for your cocktail party or sundowners by the pool. Tucked away from the other tourist crowds, we assure your functions are fuss-free and celebrated amidst privacy.
3. Start Your Fairytale in The Woods at The Homestead, Jim Corbett
If you and your partner are both nature lovers and find solace in the lull of greenery, plan a destination wedding at The Homestead in Jim Corbett, Nainital. This destination wedding venue near Delhi assures you have the symphonies of birdsong playing during the festivities. Moreover, this villa in Nainital is equipped with so many amenities and activities that every guest in attendance would be willingly occupied to try everything out. From golfing, paragliding, ATV rides to guided forest trails, you can have a ceremony that's laden with more nature-inspired activities.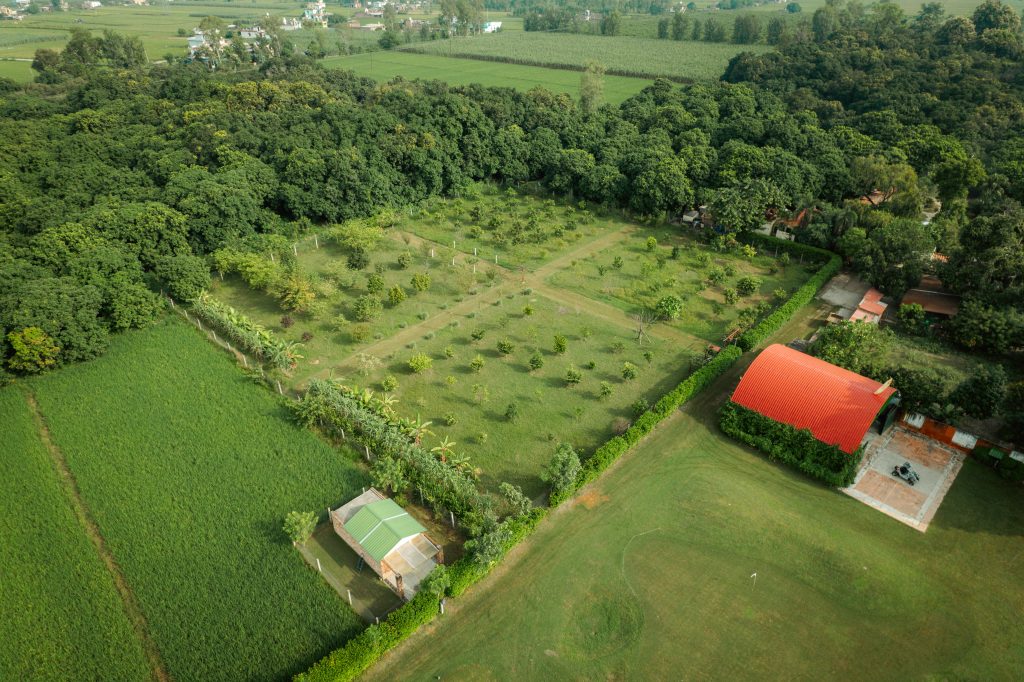 Not only does The Homestead promise to be a unique destination wedding venue in India, but it will also serve as an experiential getaway for every guest in attendance.
4. Views of The Infinity Pool & Beach at Sacri Borod Hill 9, Goa
As you take the plunge into your relationship, how about doing it by an infinity pool that stares into the horizon? Blend luxury and nature into your ceremonies by hosting your wedding at Sacri Borod 9, a beautiful villa in Goa for weddings. Nestled in the hills overlooking Ashwem, it is a grand Mediterranean-style villa that boasts a stunning infinity pool, multiple outdoor locations and a gorgeous living area for your indoor functions.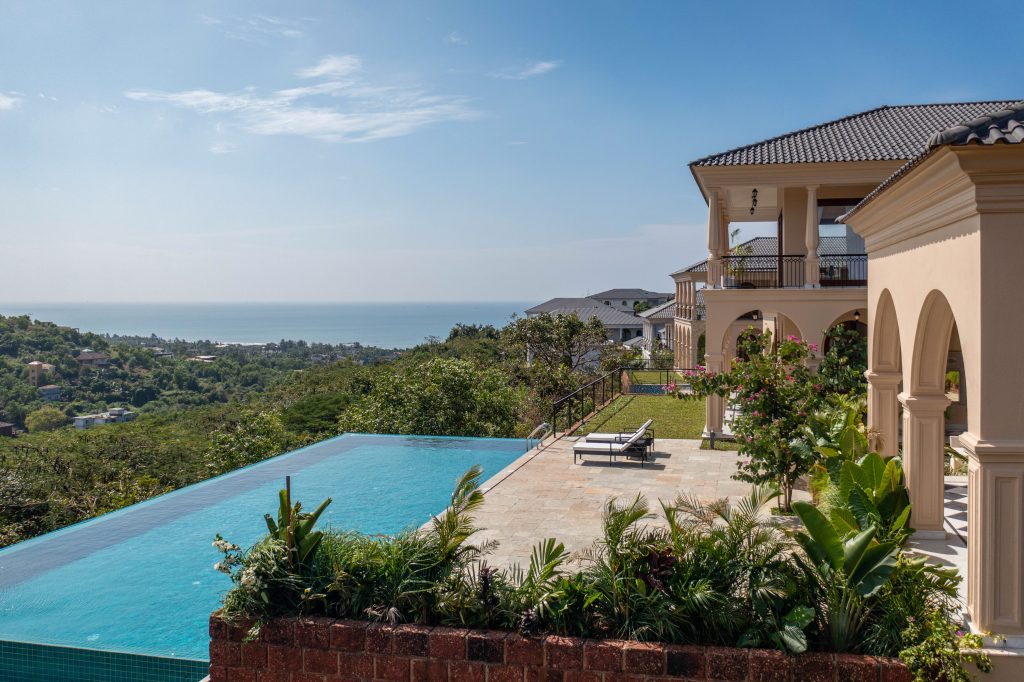 The setting sun, leaving shimmering reflections on the sea, forms the perfect backdrop for your memorable pictures. Exchange vows as the views wow!
5. Achieve Wedding Glory in The Hills at Zaznar, Srinagar
Hear us out… It may seem a little far-fetched at first, to choose Srinagar as your destination wedding venue, but if you prefer a small, intimate affair with blessings of just your close family and friends, then it is perhaps the most pristine destination wedding you'll be planning. Revel in the slice of paradise at Zaznar in our private villa in Srinagar – The White House.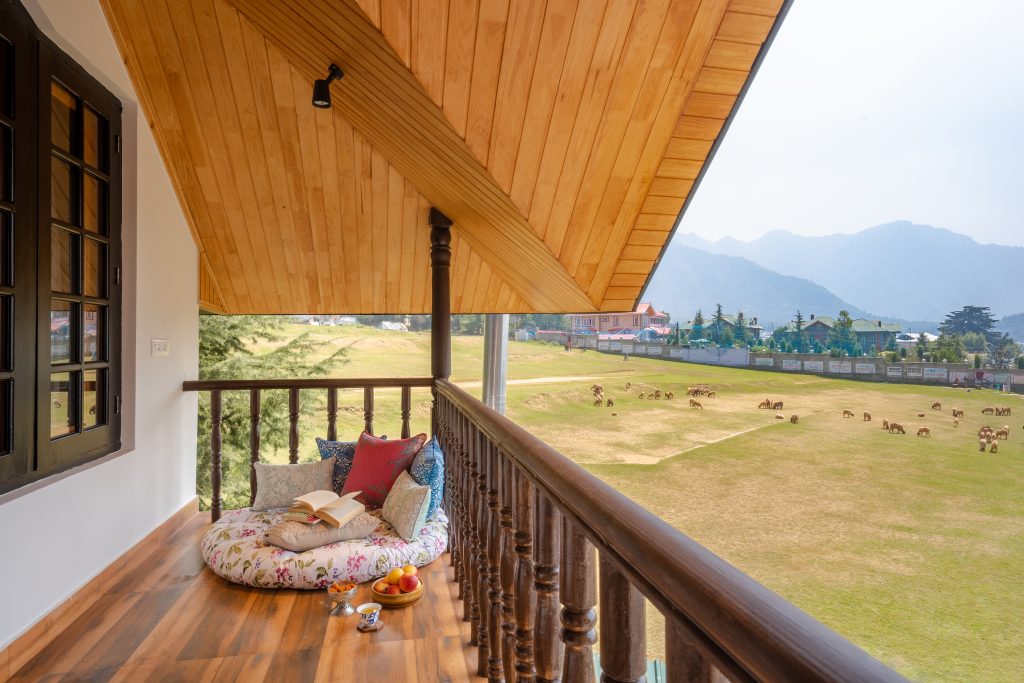 Culminate your wedding rituals in the lush lawns with breathtaking views of the mountains. Begin your new journey with ease, as the cool breeze calms your wedding jitters. Get together with everyone in the fireplace indoors and feel the cosiness your beautiful unions bring along. The couple can even extend their stay and plan a honeymoon journey exploring this heaven on earth.
And don't worry about the other wedding arrangements, an expert team of Lohono will take care of all your needs from the décor to the food. We can ensure you have an endless supply of Kahwa to keep you refreshed throughout the rituals and festivities.
Luxury Villas For Stay During Destination Weddings
One of the things that hosts have to take care of during destination weddings is guest accommodation. And it goes without saying, that these arrangements have to be at par with the scale of your grand festivities. What can definitely leave your guests in awe is accommodating them within luxury villas of equal measure, that impress with their host of amenities.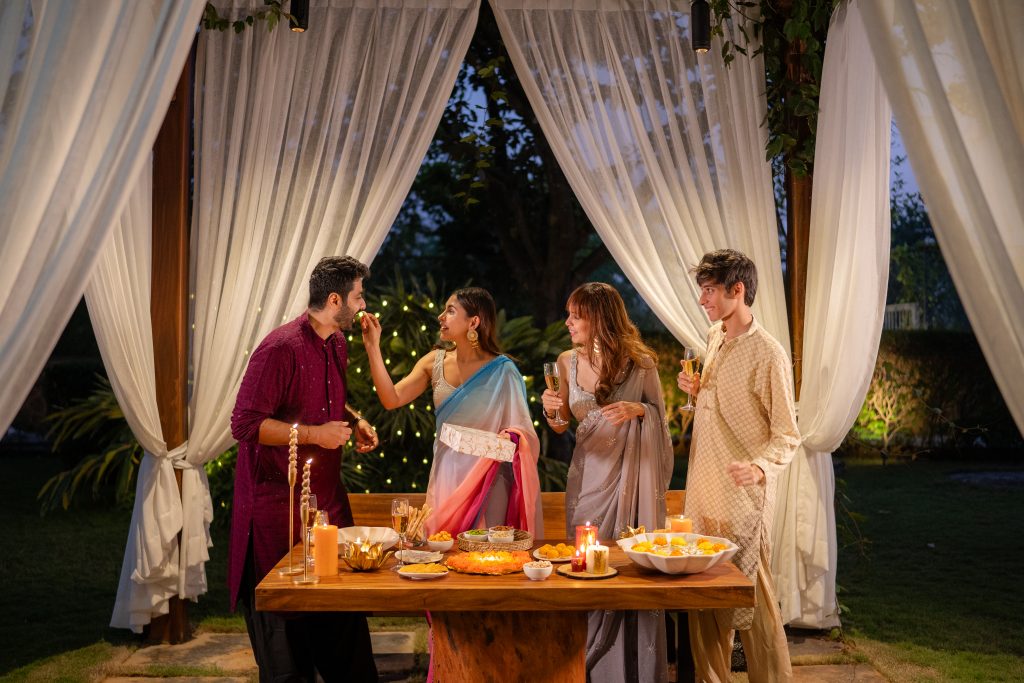 At Lohono Stays, we also have a few Vaddos (stay-only properties) that can comfortably accommodate your wedding guests and keep them satiated with our warm hospitality. If you are finalising wedding venues in Goa, you can board your guests within our luxury villas with gated complexes at Goa.
Whether you're a small family or large group spread across the different villas, with Lohono's unparalleled hospitality, your time at our community villas will be truly special and unforgettable. So if there's an upcoming marriage ceremony on the cards, don't forget to scout our villas for weddings across India.
We will always be your well-wishers in your new beginnings.