This year has been quite unprecedented in terms of weather. From severe heat to extreme showers, we have witnessed the fury of nature. But come September, things start to feel better as the monsoons start retreating but leaving behind nature's renewed glory. The fields are lush green, the weather is transitioning closer to winter and few places experience the light drizzle, just what some would seek to plan the perfect getaway. If you have missed a monsoon trip this season, September gives you a good chance to escape on one. Not sure where to go? We bring you a list of September travel destinations. Book yourself a villa near Delhi for a weekend getaway or plan a full-fledged trip to the hills, we have got you covered with our exquisite collection of family-friendly holiday homes near Delhi in September.
Top Places Near Delhi in September
Kashmir
The slice of heaven on earth presents a charming spectacle no matter which season you visit here. For those who despise chilling snowy winters, now is the perfect time to explore Kashmir. The weather is warm in the days and slightly colder in the evenings, making it ideal to make the most of your trip, catching up on all the popular tourist destinations in Kashmir.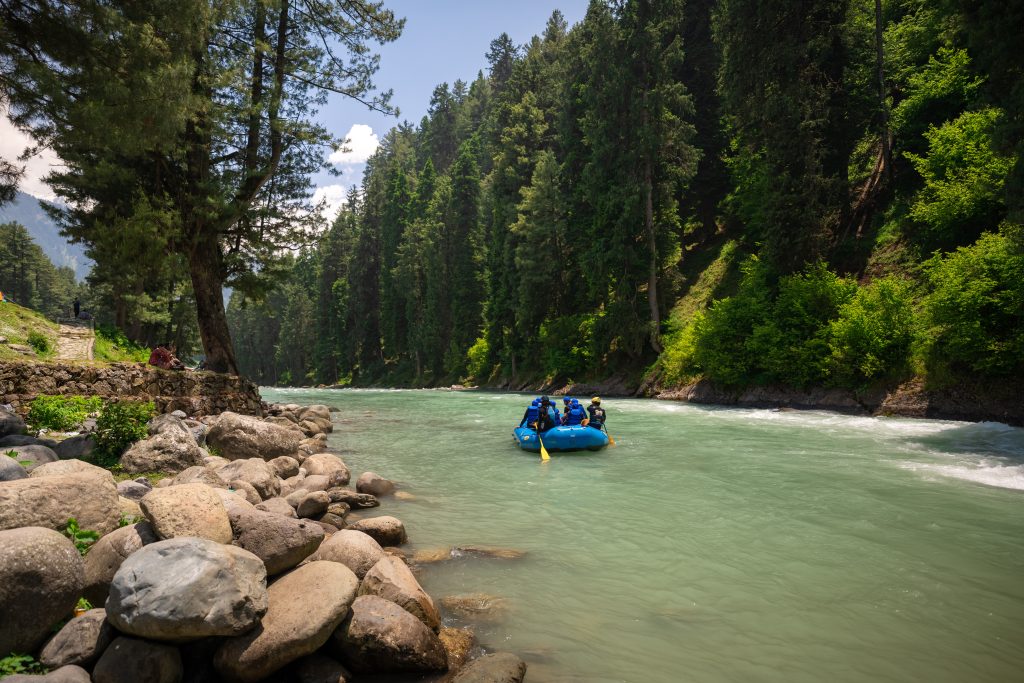 One cannot go back from here without taking a shikara ride. But Lohono Stays extends this experience from a simple ride to a luxurious stay. Our Harmukh Houseboat is in the Nigeen Lake in Srinagar and lets you unwind in privacy without much worry about the tourist crowd. While you are living on a boat, the traditional wood-panelled interiors, opulent ceilings, intricately carved details and plush hand-woven carpets give you a glimpse of the state's rich heritage.
If you want to soak in the beauty of Pahalgam right through your windows, the Hill Retreat villa takes you back in time. Laden with a century-old legacy, this cosy 2-bedroom home is perfect if you are a small family.
For more of our villas in Kashmir, click here.
Jim Corbett
Witness the hidden treasures of the wild at Jim Corbett National Park. In September, the weather is usually dry and sultry but within the lush environs of the forest, it is pleasant. Explore some of the endangered flora and fauna. If you are lucky on a safari, you may also see the big cats. While monsoons are a time when people don't really prefer jungle safaris, the retreating period is ideal to be here.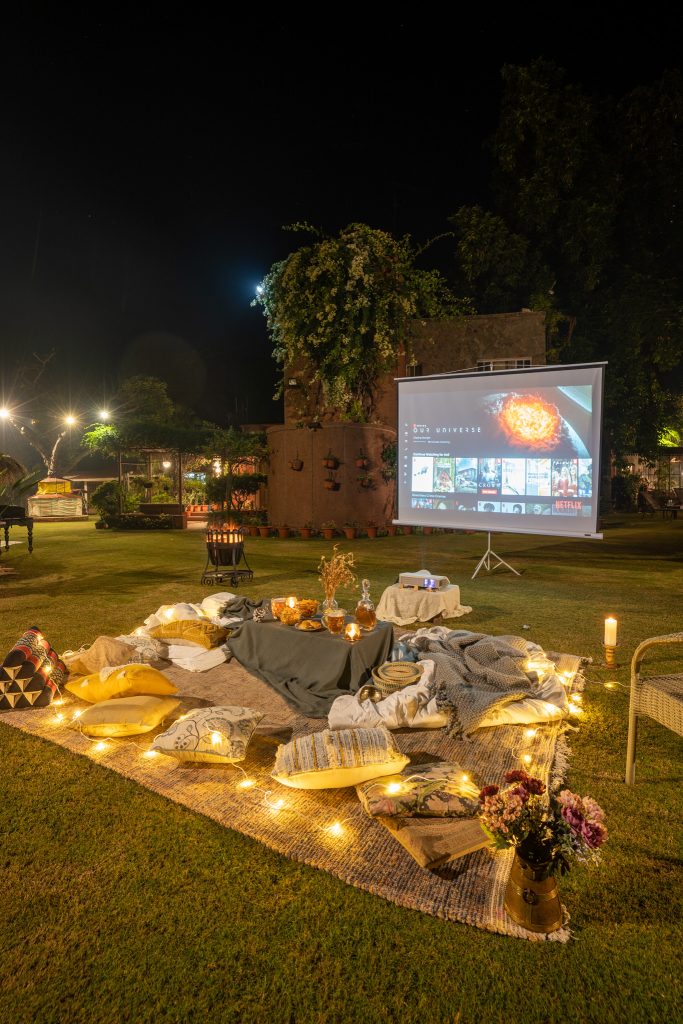 Looking at holiday homes near Delhi, you are in for a delight as Lohono has not a villa but an entire luxury heritage home in Jim Corbett. The Homestead has so many additional activities along with the safari that you will have the best time surrounded by the thicket of forests.
Jaipur
If you are trying to squeeze in a quick getaway from Delhi, how about driving into the rich heritage of Rajasthan? The pink city of Jaipur is under a 5-hour drive via the NH48, so it is ideal to escape on your September vacations near Delhi. Naturally, Jaipur welcomes you to its glorious history of palaces, forts and some of the best lakeside restaurants and cafes.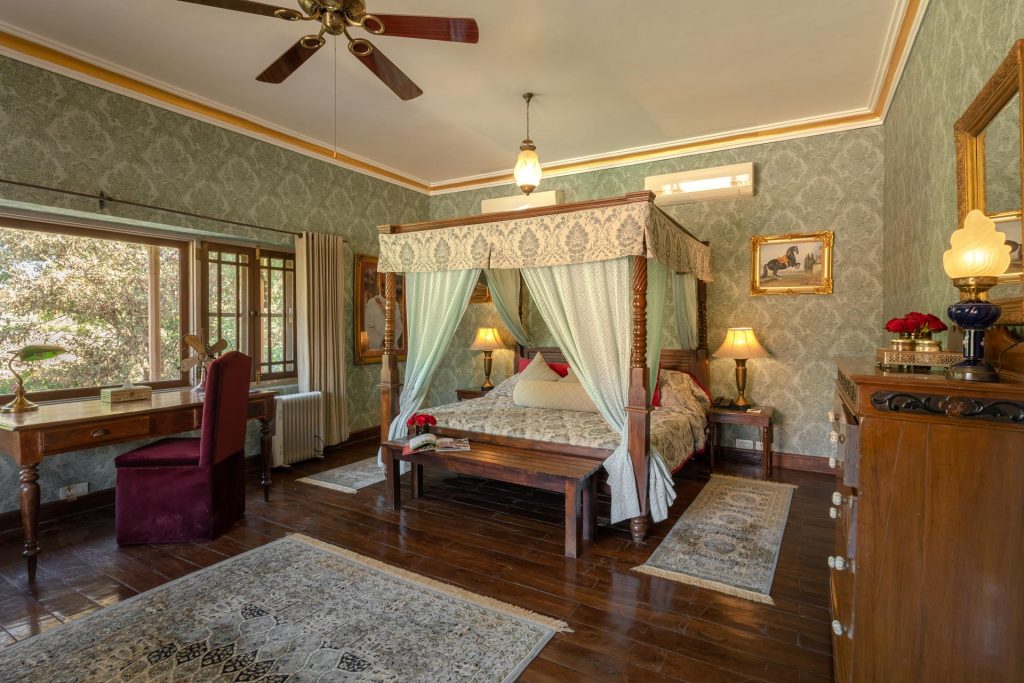 If you have never experienced what royal living feels like, you can choose from royal rooms at Srinivas Royal Residence, the erstwhile private residence of a royal family of Jodhpur. Each corner of this home exudes grandeur and whiffs of the cultural heritage it once inhabited. Indulge in spa retreats with views of the Aravallis and enjoy the traditional meal course of age-old recipes… Give yourself this pollution-free weekend getaway from Delhi in September and return rejuvenated with the regal treatment you have received with us.
The Hills Are Calling
The biggest advantage of being located in and around the capital city is the mighty hills are just a short drive away. Within a few hours' journey, Delhiites can easily reach the spiritual capital Rishikesh, ascend further to Mussoorie or embark on a night's journey to reach Himachal Pradesh and its bewitching natural treasures. If you love the mountains, here are some places where you can definitely take your September vacation near Delhi.
Bhimtal
Live amidst the Kumaoni range and wake up to the best views every day in this scenic beauty of Uttarakhand. A small town with a rich mythological past, it gets its name from Bhima from Mahabharata. He is believed to have created the centrally located lake surrounded by the hills. This is a popular tourist spot here. Other than boating and kayaking, some other activities you can do here are paragliding, camping and trekking on the hills.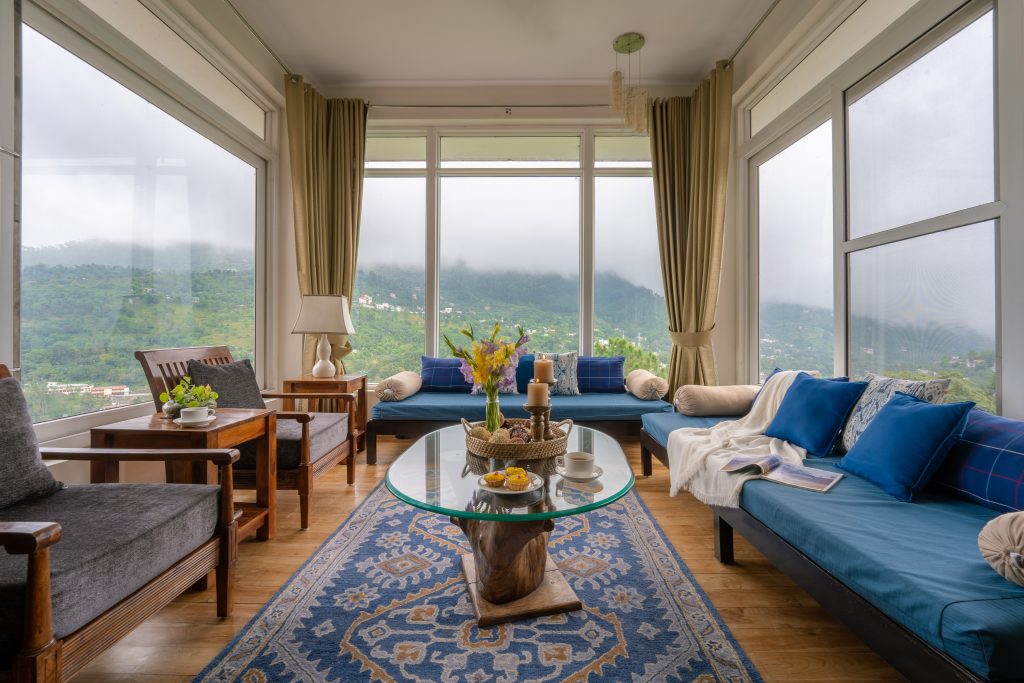 Highlight your stay at Shambala House, which has two terrace gazebos to look out for the views of the lake and mountains. This scenic villa near Delhi has large glass windows which let you be a part of the scenery, even indoors.
To check out more such luxury villas for rent near Delhi, click here.
Rishikesh/Dehradun
If the regular routine has tired you out, seek some solitude in the spiritual city of Rishikesh. The divine vibe of the place with ancient temples, aartis by the Ganga river and yoga ashrams immerses one in positivity. If you seek tranquil luxury, we suggest Pushp Villa, a contemporary home that welcomes you with a grand fountain. With views of the winding river and towering hills, wake up every day to the best of nature out your window.
If you don't have a spiritual preference, you can rest up within the city of Dehradun and pay a quick visit to Rishikesh. In Dehradun, spend a lazy retreat at the Ivy Cottage, a pet-friendly villa near Delhi.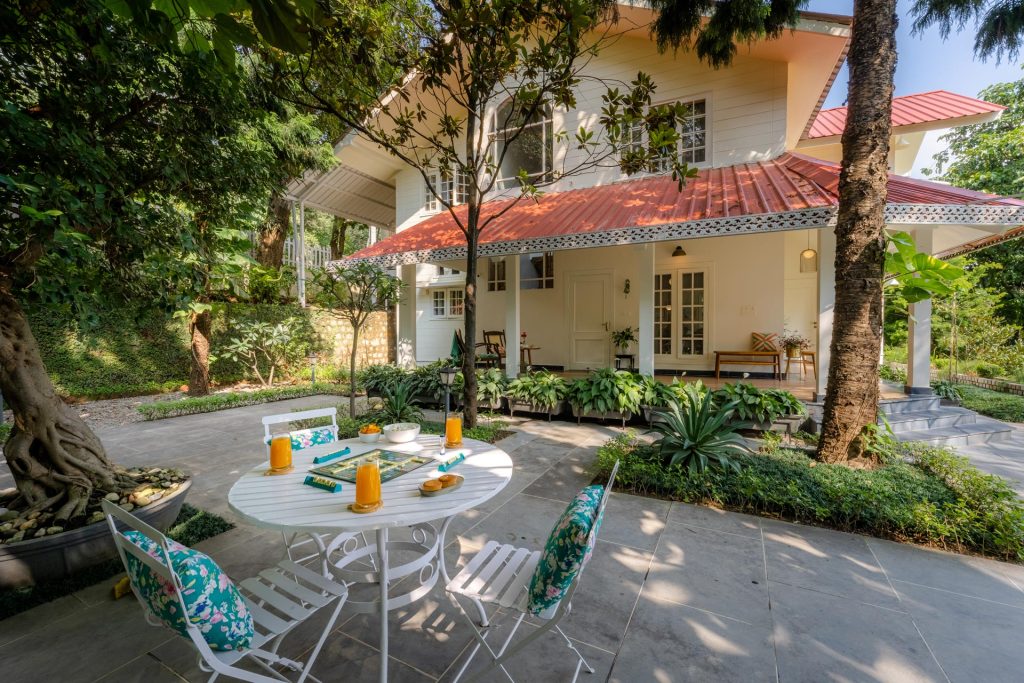 For those who are chasing unique experiences, you must visit our newly launched dome-style homes in Kanatal. A couple of days in the Avalon Domes with fresh crisp air and cool weather, will serve the purpose of planning a pollution-free weekend getaway from Delhi in September.
Shimla
An evergreen holiday destination in India, the capital of Himachal Pradesh welcomes tourists all around the year. Pleasantly warm in the day and relatively cool at night, if you are looking for hill station villas near Delhi in September, we have some beautiful abodes to your service.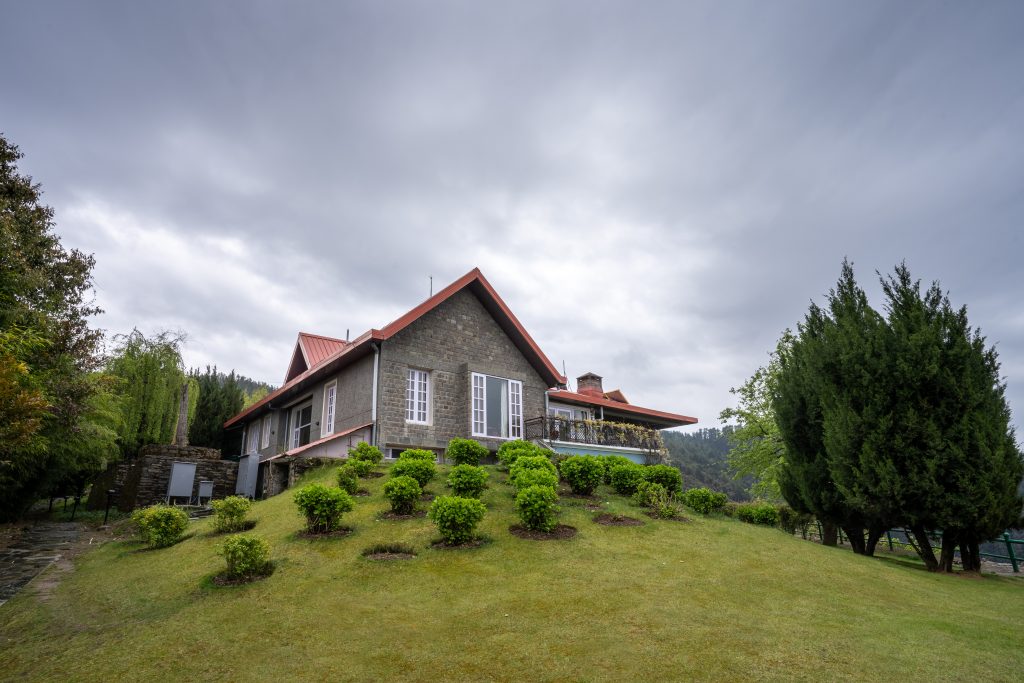 The well-appointed suites at the renovated stone cottage Jungle House will transport you back in time with its colonial architecture. Perched up on a hill at 7200 ft, you have unparalleled views of the Himalayan range with the first rays of morning sun entering your room. Sit by the cosy fire pit, arrange a picnic, watch a sky full of stars, just breathe in the fresh air and rejuvenate your senses. Take a quick romantic getaway from Delhi and let our warm hospitality tend to your needs.
Check out some of our other holiday homes in Shimla.
For a Luxury Staycation From the City
The festive and wedding season is soon approaching, so a lot of you are going to get busy you're your respective arrangements. Sneaking out time for a vacation may seem impossible, but sometimes when you crave a break, you just need one. If you are not able to take a long holiday, you can always plan a staycation at some of the best holiday homes near Delhi in September.
Sadhrana Bagh in Gurgaon is a breezy drive from Noida and nearby cities that transports you into a charm of the south! Yes, this is a 300-year-old family home from Kerala that was transported, assembled and restored to beautifully retain its earthy charms. Close to the Sultanpur Bird Sanctuary, you have the melody of birdsong accompanying you on your much-needed break.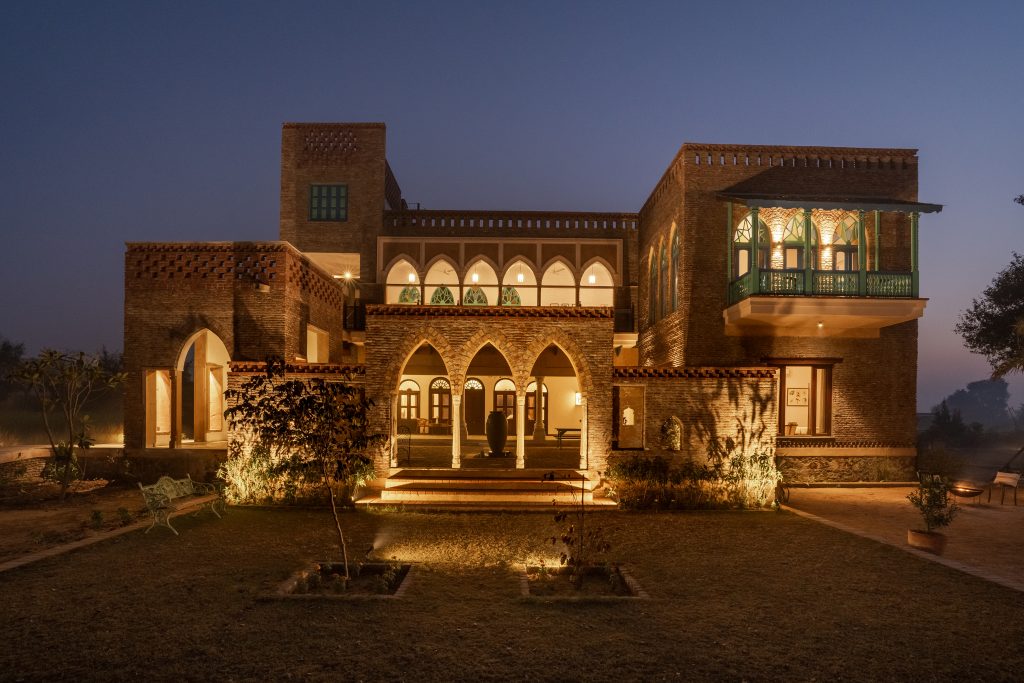 For more such luxurious villas near Delhi for September vacations, check here.
There is no dearth of places to explore in India this September. If you want to take that quick break before the festive frenzy kicks in, right now is the time. Lohono Stays has some chic and charming homes in all of the above September travel destinations near Delhi.
Laden with the best of nature's beauty and catered with affable hospitality, we assure you of a memorable holiday experience.